---
Since our first story on Bikini ran, Underwater Sports World has received numerous requests for information about the possibility of diving this exciting destination. Until recently this was virtually impossible, yet within the last month there have been new developments on making dive travel to Bikini a reality. It has been announced that the Bikini Council has signed an exclusive three year contract with the largest dive operator in the Marshalls to conduct a pilot program of dive tourism. This program will study what the pros and cons of a commercial scuba diving operation will be and what effect it will have on the underwater park and the local economy. Central Pacific Dive Expedition's, Layne Ballard, who has been the U.S. representative for the dive operators in the Marshall Islands, will be providing information and making bookings. According to Ballard, "Bikini's amazing array of warships and the technical aspect of this site will make this one of the premier dive destinations in the world. This type of diving certainly isn't for everyone, it is beyond the scope of many recreational divers. Individuals need to be well trained and in good physical condition.".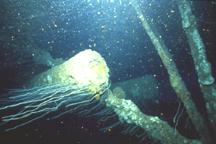 A rich bit of history lies in the waters out there. At present about 90% of the details have been worked out and travel should begin around June 1, 1996. A tentative itinerary starting from Honolulu would be as follows:
Divers depart Honolulu at 2 p.m. on Sunday
By crossing the international date line divers lose a day and arrive in Majuro (Capital of the Republic of the Marshall Islands) Monday around 7 p.m.
Tuesday they leave for Bikini at 9 a.m. arriving at noon.
Tuesday afternoon is targeted for the first dive
Most of the diving is conducted Wednesday through Sunday
Monday is devoted to touring the island, off-gasing and preparing to fly
Divers leave for Majuro on Tuesday around noon
Tuesday night and Wednesday night is spent in Majuro
Divers then fly back to Honolulu, cross back over the international date line and arrive Wednesday about 6 p.m gaining back the day they lost
Highlights of diving Bikini include diving the U.S.S. Saratoga whose deck lies at about 100 ft. making it the only aircraft carrier accessible to divers. The submarine Pilotfish, the battleship Arkansas, and Admiral Yamamoto's flagship, Nagato, from which he directed the attack on American forces at Pearl Harbor are accessible as well. These waters also offer exceptional marine life. Civilization has left the surrounding reefs untouched for 40 years and the amounts of fish and coral are amazing. Accommodations for divers are simple yet comfortable, the Department of Energy is providing use of their Field Station and arrangements are being made for private rooms.