---
There is no feeling like that of scuba diving. One becomes a visitor to a new and different world, gliding silently over alien terrain. This inner space experience offers everyone something unique and for those with disabilities it offers an escape from restrictions imposed upon them by everyday life.
There are a great number of success stories from individuals who have over come their physical challenges and learned to dive, and in most instances the Handicapped Scuba Association (HSA) has played a vital role. The HSA is a nonprofit organization founded by Jim Gatacre in 1981 and is now the world's leading authority on recreational diving for people with disabilities. It operates as an independent diver training and certifying agency. Diver education programs and Instructor Training Courses are internationally recognized and were developed in conjunction with the certifying agencies PADI and NAUI.
The road to over coming negative attitudes and doubts has not been an easy one and it has taken many years of hard work and education. In the 70s dive shop owners would back away from handicapped divers. Doctors were skeptical about this type of activity for the disabled. There were no physical exams for divers that included disabled divers. For such a long time divers were trained that overcoming the dangers of diving meant relying on their physical skills. Nevertheless the hard work and meticulous training begun by Gatacre was to persevere. Innovations in the sport and advancements in the equipment have also done a great deal to lessened negative attitudes. There has never been a report of a fatality among and HSA trained divers.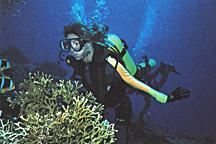 Because all divers must adapt to this new underwater environment a normalization process occurs for handicapped individuals. There are a few adjustments that must be made for disabled divers. Leaning to make the most out of whatever limited motion they have is very important. There is not a great deal of specialized equipment needed; regulators, tanks, buoyancy compensators are the same used by all divers. Those with use of their arms often utilize webbed gloves to assist in moving. Divers without the use of their legs don't dive with fins. Masks with purge values are helpful because clearing the mask becomes a much easier process. Communication often times is achieved without the use of hands but by nods or blinks or eye rolls.
Handicapped students are trained and certified according to HSA Physical Performance Standards and a Multi-Level Certification system so exacting and sensitive it enables people to be trained with a wide variety of disabilities, including paraplegia, quadriplegia, even the blind and those with high-functioning brain injuries or mild mental retardation. Students diving proficiency is based on their ability to assist another diver in the water. For instance, if you're a Level A diver, you're certified to dive with one other person: a Level B diver must dive with two divers and a Level C diver requires two dive buddies and one must be trained in diver rescue. After meeting the requirements for basic open water some A, B, and C divers go on to obtain an "Advanced" level of certification.
But the education provided by the HSA doesn't end with the handicapped. Since 1986 the HSA Instructor Training Course has produced a network of over 1,200 instructors in over 32 countries throughout the world. Another course called the HSA "Dive Buddy Program" offers able-bodied divers an opportunity to expand their underwater world to include sharing it with a handicapped partner. A HSA certified Dive Buddy receives almost as much information and skill training as an instructor but with more of a focus on recreation.
Every one benefits from the type of attitude displayed by handicapped divers to overcome their physical challenges. If it were not for this attitude Jacques Cousteau may never have begun to dive.
Jacques Cousteau, while training to become a pilot in the 1930s , was involved in a car accident that seriously damaged both his arms ending his career in aviation. It was then after months of painful rehabilitation that he embarked on a lifelong devotion to the oceans.
There are currently two very important projects going on with the HSA:
HSA Resort Evaluation Program
This program is designed to provide safe dependable, barrier-free dive resort destinations for people with physical disabilities. A rating system categorizes and lists information regarding levels of accessibility for each resort. A 5-Star rating would include total wheelchair accessibility with an HSA trained and certified dive staff, where as a 1-Star rating has minimum access.
Inspections are done by expert travel agents who are themselves wheelchair users and trained specialists in barrier removal. Follow-up publicity and information is then provided by HSA International to thousands of HSA certified divers and instructors world wide. For more information contact Julie Mora-Perez at 805.648.6740 or fax 805.641.1444.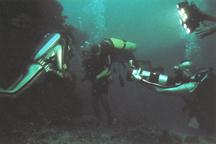 Rehabilitation Outreach Program
Scheduled to begin May , 1996 through April 30, 1997 the Rehabilitation Outreach Program will focus on introducing scuba to newly injured persons. This will be achieved by creating a network consisting of Rehabilitation Centers; the HSA and the many HSA-certified scuba instructors worldwide.
There are over 10,000 spinal cord injuries a year in the United States alone. Only 20% of these people reintegrate successfully into society. The other 80% confine themselves to their homes, with no hope of interacting with people out side of hospital connections. The HSA not only benefits people with disabilities, it will increase awareness and sensitivity in the general population.
In order to accomplish these goals, HSA currently has a team of volunteers researching the rehabilitation center nationwide. The program consists of Discover Scuba presentations in rehabilitation centers across the country led by an HSA social worker, along local HSA instructor.