---
Sprawling, beautiful beaches, magnificent ocean, fish the colors of Joseph's coat and accommodations for every pocketbook. A SCUBA divers dream world that has breath taking dive sites, outstanding wreck diving and exciting water oriented activities for the non-diving spouse and the children as well as land activities for all.
Sound like an impossible dream? An Island in the Caribbean? This dream world can be found right on the mainland .. at Miami Beach, Florida. Everything is at your finger tips, but most exciting for the "macho" diver as well as the timid water sprite, is the availability of delightful scuba diving.
Miami considers itself the wreck diver's paradise. Dozens of artificial reefs have been created by the sinking of wrecks. From old ships to army tanks, to airplanes to sea sculptures to uniquely designed reef habitats for juveniles..all can be found just a short distance off shore from the beautiful South Miami beaches.
They have even designed a Wreck Trek, an underwater trail connecting several wreck sites using steel stakes that were put in the sea bottom as markers, so that divers can follow around with ease. There is an intact 65 ft. tug boat, an 85 ft. steel trawler, a 110 ft. steel barge and a large group of triangular-fish-attracting structures.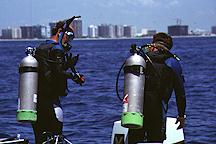 Two oil platforms, donated by the Tenneco Oil Company, provide the largest surface area of any artificial reef site on the East Coast. The C-One is a 120 ft. steel hulled tug that was sunk in 1990.
The Tortuga, a 180 ft. freighter was sunk last year as part of the closing sequence of the movie Fair Game and several M/16 Military Tanks were sunk in 1994.
A little known gem is the Biscayne Underwater National Park where you can either snorkel or dive and find magnificent, unspoiled natural reefs with abundant fish life and flourishing sea fans, corals and sponges.
A new underwater experience awaits the diver and non-diver alike ... the BOB. The BOB (Breathing Observation Bubble) is an underwater skooter powered by an electric motor. The operator has complete control over speed and navigation while a continuous flow of air is pumped into a dome by a scuba tank attached to the front of the unit. Located at the Miami Beach Marina, this is a nice change of pace activity.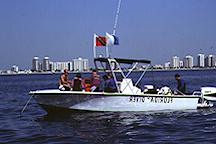 Fully stocked dive shops, such as H2O Divers and Island Divers can supply your every need and independent dive boat operators such as Blue Water Diver, American Diver and R.J. Diving Ventures assure that you will have the finest diving experiences, getting first class treatment all the way. Dive shops and boats are plentiful in the area so you will not be closed out of diving because of lack of space.
All of this in a spot that has really come back to life. South Beach in Miami is THE place to be. The day and night life for young or old is jumping. Hotels, such as the Avalon on Ocean Dive, the Hotel Astor, the Holiday Inn Crowne Plaza in Sunny Isles, the Van Dyke on Lincoln Road or the Delano on the beach provide accommodations to meet everyone's pocketbook. From sparse to ultra-plus, this is the place to find them.
Land activities abound. The Monkey Jungle, the Parrot Jungle, the Seaquarium, Metro Zoo, Butterfly World and exciting children's museums will certainly keep the young ones entertained.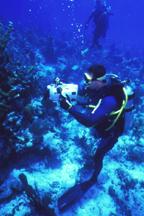 For the "young in heart" there is the Bayside Marketplace, an exciting waterfront area with shopping, restaurants and entertainment. You can even travel from place to place via a water taxi and get a different view of the area around Biscayne Bay. Lincoln Road has been refurbished and is now an upscale art, theatre, shopping, walking mall with no cars allowed and Viscaya is a vista not to be missed.
Yearning for good food? This is the place to find it. Monty's in the Miami Marina offers an elegant casual waterside setting. The Hard Rock Cafe located at Bayside offers fun and food. Stop in the Van Dyke Cafe to people watch along Lincoln Road, or lunch at Penrod's Beach Club that features 13 beach bars, volleyball courts, and a poolside calypso band. Enjoy the international cuisine of the elegantly casual Sheraton Bal Harbour Beach House Restaurant while listening to live Caribbean music.
And don't forget South Beach's Ocean Drive at night. Hotel after hotel, restaurant after restaurant, each with its own distinct flavor, hosting crowds at their outdoors cafes. People watching here is whole movie moving right in front of you.
Miami is certainly the place for scuba, fun and relaxing for the whole family .. and without the hassles of passports and clearing customs. The swaying palms, blue waters, sandy beaches and genuinely pleasant, warm people all beckon you to .. C'mon down.