Sharing the Adventure

By Kathy Faveere

Including young children on your dive trip creates excitement and lasting memories...if you're prepared
---
If piling your family in a 747 and heading to Palau seems a little far fetched, think again. With good planning and a few extra dollars, you can turn an exciting dive trip for yourself into an extraordinary family vacation.
According to Theresa Detchemendy and Deborah Baratta, founders of San Francisco's Rascals in Paradise, an increasing number of dive destinations are catering to family travel. As a result, more and more parents are sharing the adventure with their non-diving children, rather than leaving the kids at home or avoiding the trip altogether.
"Diving parents may be surprised by the number of dive sites that also make excellent family vacations," says Detchemendy. "We've received rave reviews from Bonaire, Belize, Fiji, Palau, and the Bay Islands...just to name a few. The great thing about these types of vacations is that parents can enjoy diving, while children enjoy supervised land-based activities."
The family vacation is also a logical place for children to become certified divers. However, Detchemendy emphasizes that children should complete classroom work prior to visiting the destination. In addition, parents should find out what related paperwork is required at the resort and if a qualified instructor will be available during the vacation time. By covering the bases upfront, the whole family can maximize valuable bottom time and enjoy the underwater experience to its fullest.
If you're thinking of bringing the kids on your next dive trip, Detchemendy and Baratta offer the following tips to help make your adventure a success:
Plan ahead. A dive trip that includes a complete family vacation requires more advanced planning than a dive excursion for two. Resorts book up quickly around popular family travel dates such as holidays and summer vacations. Detchemendy and Baratta recommend you contact your travel agent six months in advance of your the trip.
Include the kids in the planning process. Children can make great travellers, especially if they share their parents' excitement for the trip. However, don't emphasize the amount of travel time during the planning process. In fact, if you're facing a lengthy drive or plane ride, consider scheduling the long legs of your trip at night.
Know your destination. While some places are perfect for non-diving adolescents, they may not be good for toddlers. Get information from a qualified family travel specialist or trusted friend who knows the country and the facilities.
Find the right resort. Both large and small resorts can offer excellent family accommodations. However, Detchemendy and Baratta have noticed that small to medium-sized resorts may be best suited for divers travelling with families. To help you select the ideal place for your family, be sure to ask the following questions: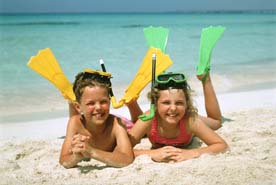 What activities are planned for children?
What pace will they be expected to keep?
How safe is the area for kids?
What are the facilities--do children share the same room as parents or are there connecting rooms?
Are children's meals available?
Does the property provide babysitting and childcare by individuals who are screened and known locally?
Be aware of added health risks. Areas which are safe for adults can be risky for young children. Youngsters are more prone to sickness because they frequently put their fingers in their mouths Make sure all immunizations are up-to-date and bring the appropriate medicine with you in case of minor injuries or illnesses.
Consider a practice trip. If you're not sure that your family is ready for an "exotic" destination, consider a place that easy to get to and fairly civilized. This can be a great way to determine if a dive trip including your non-diving children is right for you.
Consult an expert. Companies like Rascals in Paradise were founded by diving parents who specialize in family adventure travel. Make sure the tour company you select knows firsthand the joys and challenges of similar trips. And don't hesitate to request a list of past customers.
Go for it! If you can afford to include your family on your next dive adventure, don't wait any longer. The memories will last a lifetime...and many families actually become friends with other families who share similar travel interests.