Disabled and Diving How I Took the Plunge With The HSA

By Julia Dorsett: Editor in Chief, HSA Journal
---
Welcome to the world of diving with the Handicapped Scuba Association (HSA). The HSA is the leading certifying agency of both open water divers and instructors in the disabled diving community. Our Physical Performance Standards and Multi-level certifications are the most highly scrutinized and refined standards for diving in the world. This column is dedicated to disabled divers, non-disabled divers, instructors and anybody else who has a vested interest in diving. It will contain HSA Dive Trip updates and stories; what s hot in the industry, who to call for all HSA information and just basically all there is to know about diving with disabilities.
My Story
From the time I could remember I had always wanted to go scuba diving. It all started at our summer home in the Adirondacks. I would spend more of the summer under the water then above looking for old bottles that were heaved off of porches and into the lake by caretakers of days past. But thank goodness for their political incorrectness because if they had disposed of them properly our playground of treasure would not exist. We would discover marmalade jars made of ceramic, round bottomed bottles in the most alluring pastel blues, medicine bottles and china plates. All of these artifacts have been sanitized and put out for all the world to see, in the kitchen.
The shelves containing these remnants of the past were the stepping stones for my deep rooted interests to go beyond the capacity of my lungs. I was well versed in blowing unwanted water from my snorkel and had the dolphin kick down pat. But I never thought about actually taking the next step, getting certified. Following another wonderful summer in the Adirondacks went off to Ithaca College and discovered they offered a scuba class for credit, but was to busy almost failing out to get involved with that plus it was $350, to much for a Freshman. I finished up my first semester at Ithaca and headed home for Winter Break. Needles to say that summer I had done my last Dolphin kick. Three days after I got home I broke my back (Thorastic 12, (T-12) in a car accident and was operated on Christmas Eve. Who would of thought that it would take breaking my back to finally get me to commit to pursuing what I had always thought about doing as an able bodied (A). So six years after my accident I finally got the chance to try it.
I was talking causally with a friend who happens to be a quadriplegic and told him that I had always water to dive. He had lived in Florida for awhile and said he had gotten certified by an HSA instructor. After calling his instructor my friend Jerry and I were off the sunny Florida. After seventeen straight hours in the car we arrived in Tampa. Happy to be out of forty degree weather we checked into our hotel three hours before our room was ready, so we sat and pruned in the hot tub for a few hours then took a long needed nap in our room. Then it was off to World of Water inc. to meet Bob, our instructor. He used the pool at the dive shop for his classes so that s were we got started.
I had tried SCUBA before in a pool with a friend and he had me clearing my mask and doing other stunts so I wasn't to nervous about jumping into this. So after all the psycho analyzing I slipped into a skin, out of my chair and into the pool (with a little help from Bob). After donning my regulator I started my descent to four feet. It was the greatest feeling in the world. I was actually using SCUBA! We all gave the famed O.K. sign and proceeded with the lesson. I did all of the skills as well as my counterpart and even did a few he didn't do. As an HSA open water diver I had to learn rescue techniques that are not required by other certifying agencies. These extra skills produce a safer and more confident diver. This is why it is so important as a disabled diver to be certified by HSA. I didn't have to learn skills that didn't apply to me like the fin pivot and I never felt incapable of doing any skills because they were all designed with my particular limitations in mind. My book work was taught from the PADI dive manual because Bob was a PADI instructor. An HSA instructor can have any instructor status and then cross-over to becoming an HSA instructor. You might have an HSA instructor that s PADI, NAUI, SKI or YMCA and although your SCUBA skills will differ according to HSA standards your book work will be from whatever dive agency your instructor was originally certified by. So after we both successfully completed our pool work and passed all of our chapter quizzes we drove to Crystal River to do the Check-Out dives.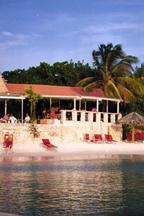 They carried me onto the barge and I sat on the floor were it took both Jerry and Bob to twist and yank me into a wet suit (since then I've purchase a suit with leg zippers for easy access). After all the squeezing I had worked up a pretty good sweat and couldn't wait to get into the water. However after doing a forward roll of the barge I couldn't wait to get out, brrrrrrr. Other then the fact that my saliva wasn't working in the mask defog department I was thrilled to be 30 feet under. It was a little crowed that day at Crystal River and for a new diver getting kicked in the face by a fin was a tad unnerving, but after a few minutes I calmed down and we began our check out lessons. We completed two of the dives and then on the third my ears wouldn't clear past ten feet so I was ordered back onto the boat in fear that I could do some real harm to my ear. I spent the next two hours on the boat waiting for the guys to finish and feeling like an utter failure.
After Jerry finished all his lessons we went back to shore to take the written part of the certification. We both passed. Now the next step was to find an instructor to finish certifying. We had to drive back home that day and since it was to cold to do open water in Pennsylvania I needed to find an instructor in a warm climate. Bob suggested that I consider going on and HSA dive trip and finish my certification with the guru of HSA, the founder, Jim Gatacre. I took the information and hopped into the car to drive another 17 hours home. As soon as I got home I began calling the numbers he gave me and found out what I needed to know about the trip. They were going to Bonaire with approximately ten disabled people and yes Jim could certify me on the trip. So I packed my bags and off I went. I had only been to the Islands once before when I was in high school so this was my first real vacation since my accident. There is no jet-way on Bonaire so we had to be carried off the plane one by one. We all got our luggage and they loaded us into shuttle vans and taxis. And I watched in surprise as they loaded our wheelchairs in to a pick-up truck. It was an interesting sight and I would have been nervous for my chair riding all alone, but I knew it was in good hands, or should I say bunggies. We checked into our accessible rooms complete with roll-in showers, had a bite to eat and talked about the diving to come. The next morning the staff expertly carried us onto the boat, helped set up our gear and we were off to the open seas. After a forward roll into the deep blue abyss I couldn't believe how bathtub warm the water was, the endless visibility and the abundance of pelagic. It was then that I realized the difference between warm and cold water divers, but that s another story.
Jim and I went through the final stages of my lessons and I passed with flying colors. I then was allowed to dive with the group for the rest of the trip and was lucky enough to have Jim as my buddy. The diving, the group, the beautiful Caribbean air, I was hooked. I was also so impressed with the HSA that I asked Jim what I could do to get involved. Lucky for me that the gentleman that was volunteering for them, answering phones and such, had just told Jim that he couldn't do it anymore. Jim asked me if I'd like help out with the phone inquires. That was all I needed to hear, it sounded perfect. As soon as I got home I studied up on the corporation and got started immediately. After two years I'm still around and have made my position what it is today. As Editor in Chief of The Official Journal of the HSA I oversee it s preparation and quarterly distribution. I have also begun to offer advertising space in The Journal which supports it's continuation.
The HSA has improved the quality of my life both physically and mentally. Since braking my back over eight years I find Scuba to be one of the few sports available to the disabled that enables you to truly feel whole again. Participating in this type of interrogated sport that includes able bodied divers and disabled divers creates an environment for discussion, good diving and most importantly, equality. I encourage disabled folks to give Scuba a try and able bodied divers to think twice next time they see a disabled individual to think back on this article and remember that we are capable of almost anything we put our minds to.